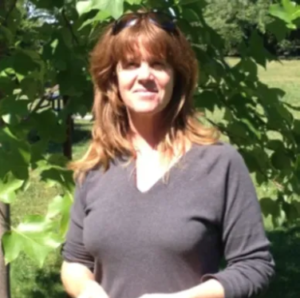 Cathy Blott, B.Sc.
Associate Habitat Restoration Biologist
Cathy is currently an Associate Habitat Restoration Biologist with 8Trees Inc, specializing in hydrological system monitoring. She graduated with an Honours B.Sc. majoring in Biology from the University of Waterloo in 1993, and has 27 years of experience working on wildlife restoration and conservation projects. Some of her responsibilities at 8Trees Inc. include conducting field work, analyzing data, preparing reports and proposals, and help mentor younger staff, students and volunteers in the field. Cathy also conducts outreach events and builds partnerships with landowners, municipalities, and agencies to gain support for several ongoing projects.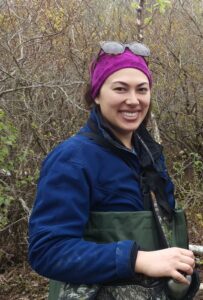 Katharine Yagi, PhD, CERPIT
Research Associate
Katharine
is a Research Associate with 8Trees Inc., and an Adjunct Professor in the Department of Biological Sciences at Brock University. She is also currently a member of the
COSEWIC Amphibian and Reptile Specialist Subcommittee
as well as a member of the Fowler's Toad Recovery Implementation Team (2011 to present). She received her B.Sc. in biological science from the University of Guelph in 2008, M.Sc. in biology from Laurentian University in 2010 under supervision of
Dr. Litzgus
, and her doctorate in Renewable Resources from McGill University in 2018 under supervision of
Dr. Green
. At 8Trees, Katharine is pursuing several research projects and coordinating many outreach initiatives. Visit her
LinkedIn
and
ResearchGate
for more information.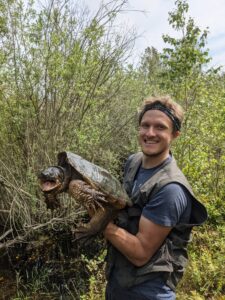 Michael Babin, B.Sc., CERPIT
Biologist
Michael
works for 8Trees Inc. as a Biologist. He received his BSc (Hon) in Ecology and Geography from the University of Guelph in 2019 and completed a college Graduate Certificate in Ecosystem Restoration from Niagara College in 2020 (CERPIT). While in the field, he enjoys learning about how the topography of an area can impact the diversity of wildlife and plant communities that reside there. Having an avid interest in herpetology from a young age, he aims to continue working in the field of conservation with the goal of protecting the reptiles and amphibians that had such a profound impact on his life.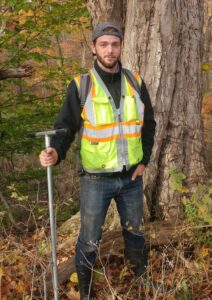 Justin de Vuyst, BBRM, Licensed Exterminator (Forestry)
Resource Management Technician
Justin is our Resource Management Technician and licensed Exterminator (Forestry) here at 8Trees Inc. He graduated with a Bachelor of Bio-Resource Management (BBRM) majoring in Environmental Management from the University of Guelph in 2020, with a minor in Music. During his studies, Justin developed a keen interest in the concept of ecosystem services and the conservation efforts that surround them. Before joining 8Trees Inc., Justin worked on West Nile Virus control in the Wellington-Dufferin-Guelph Region.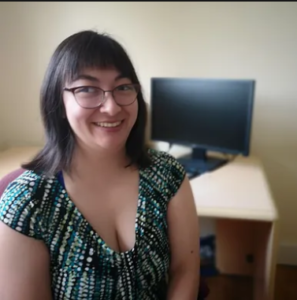 Erica Yagi, M.A.
Social Media Coordinator
Erica completed her M.A. in Communications, Popular Culture and Film at Brock University in 2017. She has been working as the Social Media Coordinator for 8Trees Inc. since January 2018. Some of her responsibilities include public communications via social media and creating new educational posts about species-at-risk and updates on ongoing 8Trees Inc. projects. She also worked as an online English as a Second Language (ESL) teacher, and is currently pursuing a law clerk diploma.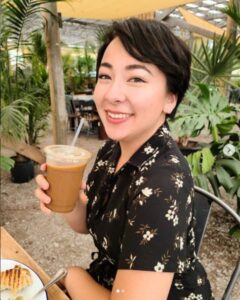 Heather Yagi,
Outreach Illustrator
Heather completed her Diploma in 3D Animation, Art & Design in 2017 at Humber College, and currently works for 8Trees Inc. as the Outreach Illustrator. She spends her time designing outreach materials, promotional materials, and merchandise. Heather also works as a 3D modeler and background artist for a 3D Animation company called Keyframe Digital Productions. While she always loved animals, Heather has recently discovered her love for plants as well, and has started a substantial indoor plant collection!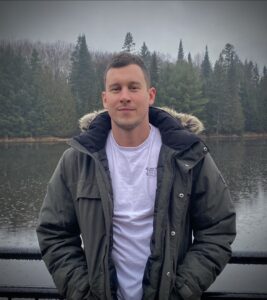 James Butler, B.Sc.
Research Technician
James works for 8Trees as a Research Technician. He received his B.Sc. (Hon) in Environmental Biology and Technology from Nipissing University in 2022, and completed the Environmental Technician – protection and compliance diploma at Canadore College in 2020.  James is passionate about the protection of species-at-risk (SAR) and conservation initiatives. He plans to incorporate his skills in the environmental industry and passion for SAR protection to pursue a career in conservation.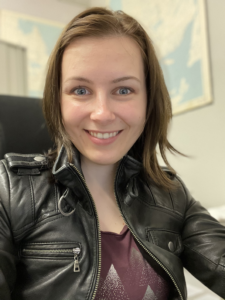 Bethany Kuntz-Wakefield, M.Sc.
Biologist
Bethany is a Biologist with 8Trees Inc. She received her B.Sc. in Environmental Science from Royal Roads University in 2017 and her M.Sc. in Biodiversity, Wildlife and Ecosystem Health in 2023 from The University of Edinburgh. Her thesis was supervised by Dr. Louise Beveridge, with Anne Yagi as a local advisor. Her dissertation work focused on a case study of ecological engineering for stormwater treatment. She also holds an Environmental Technician diploma from Centennial College (2016) and completed continuing education courses in Field Methods for Ecological Restoration and Restoration of Freshwater Aquatic Systems at University of Victoria. Before joining 8Trees, Bethany managed the Wildlife and Stewardship Office at Six Nations of the Grand River Elected Council. She also has experience as an Environmental Scientist working in contaminated sites and in technical laboratory and environmental R&D roles in the automotive industry. Bethany is known by friends as the 'Soil Queen', as she enjoys turning her friends' lawns into edible/native plant communities.
Summer Staff, Students & Interns
Sharaya McCollum-Brown
Administrative Assistant
Sharaya received her Child and Youth Worker Diploma with honours in 2018 and has been working in the field on and off since then. She has a strong background in retail, social services, and program and event planning, and is passionate about outreach, education, ecosystem restoration and species at risk. Sharaya is now working towards pivoting into the environmental sector. She is very enthusiastic in her new role at 8Trees, and is excited to work alongside the 8Trees Team and to learn new skills. Sharaya aspires to return to school sometime in the future for an environmental related degree.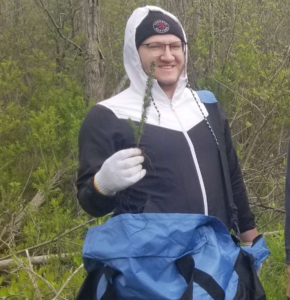 Luc Goulet , M.Sc.
Field Technician
Luc received his Diploma in the Environmental Technician program at Niagara College (2015), and decided to further pursue the field of environmental studies by completing his Bachelor of Science in Wildlife Biology (2019), and his Master of Science degree in Integrative Biology (2022), both obtained at the University of Guelph. Luc's thesis work focused on feeding interactions of freshwater zooplankton grazers consuming algae, and how hydrodynamic conditions influence these interactions. Luc's research interest align well with his interests, due to his passion for restoration and protection of our precious freshwater ecosystems. He hopes to utilize his knowledge of freshwater ecosystems, and of the physical processes of water, to have a long career conserving our beautiful nature.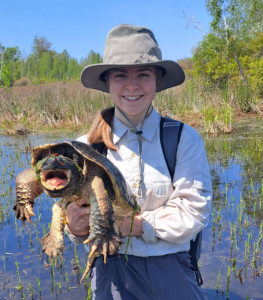 Tiana Bilodeau
Field Technician
Tiana is currently majoring in Biology at Trent University in Peterborough. She is passionate about animals and conservation efforts aimed at protecting species at risk. Tiana enjoys spending time outdoors and going on camping adventures with family and friends. She is eager to learn and gain some new experiences as a Field Technician with 8Trees.
Previous Staff & Students
Alanah Joyce, B.Sc.
Curtis Abney, M.Sc.
Byron Garcia, Dipl.
Brie-Anne Breton, M.Sc.
Rebecca Anderson, B.Sc.
Rylee Goerlitz, B.Sc.
Helen Hermansen, B.Sc.
Matthew Jung, B.Sc.
Theresa Bukovics, M.Sc.
Cole Vandenberg
Priya Kannankulathu
Savannah Stuart
Scott Falk
Victoria Zachar
Mike Hoggan
Mingxuan Su
Calvin Dickens
Wynne Reiccheld
Willow Holmes
Grace Jackson
Thenuja Vittanachchi
Abitha Thavanesan